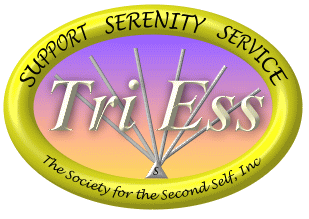 Alpha Tau Sorority Chapter of Tri-Ess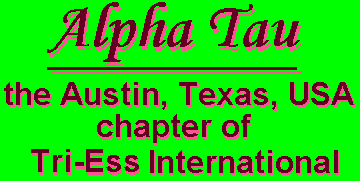 Support Group for Crossdressers in Central Texas
........................INTRODUCTION............................

Welcome to the offical homepage of the Alpha Tau (Austin, Texas) Chapter of Tri-Ess. We are a central Texas-based chapter to Tri-Ess; a non-profit, support organization for heterosexual crossdressers, families, and our beloved allies.

An in-person preliminary screening interview with 2 of our members is required prior to attending a meeting. Membership in Alpha Tau further requires membership in Tri-Ess national. Apart from offering support for it's chapter's members, Tri-Ess also publishes a professional magazine for it's members, The Mirror.
If you would like further information you may email us at alphatausorority@yahoo.com

Our local chapter hosts a variety of programs for it's members; including presentations from Transgender Community leaders and helping professionals, make-over and fashion presentations and seminars, dinners out (for those who are comfortable) at local TG-friendly restaurants and shopping trips at TG-friendly stores after hours or events at members homes, as well as functions with other local area support organizations. Sometimes we have a potluck dinner with a theme and occasionally play board games, charades and pictionary or just talk about things that are happening in our lives.

Some topics include:

Crossdressing husband
Helping supportive wives
Gender identify education
Embracing femininity/masculinity
Cosmetics and dressing techniques
Wig styling
Austin transgender events
Coming out to your family
Significant other's feeling of betrayal
LBGTQIA, and counting
Human rights


The purpose of Alpha Tau is to act as a non-sexual support group for heterosexual crossdressers, their spouses/SO's and their families, and to assist its members in developing understanding and acceptance of both masculine and feminine qualities essential to their personalities. To further our purpose, we will provide opportunities for crossdressing programs, services, and social activities for the support of our members, and to assist members with problems related to crossdressing whenever possible.

Tri-Ess The Society For The Second Self (Support Serenity Service) is the international, nonprofit, volunteer organization that provides accurate informational and educational resources about Crossdressing and Crossdressers for the purpose of promoting understanding, acceptance, tolerance, and a constructive public and self-image. The Society seeks to identify and meet the needs of both the Crossdresser, most often a heterosexual male, and "her" wife or other female partner in a committed relationship with the Crossdresser. Our informational and support activities often also extend to the parents, children, or family members and friends of the Crossdresser.

As an all volunteer organization, our products, programs,activities, services, and assistance are provided with understanding in a knowledgeable manner that demonstrates a personal interest and a caring concern. The Tri-Ess educational and informational resources are also made available to educators, researchers, mental and physical health care professionals, employers, clergy, law enforcement, and public officials, venders, and the general public. The Society supports, participates in, and sponsors academic research on the subject of Crossdressing.

Crossdressers are blessed with an additional facet to our personalities. As we accept our dual, masculine-and-feminine, "bi-gendered" gift, and seek to understand and explore it, the result is a very fulfilling broadening of our entire personality. The act of crossdressing is associated with several behaviors, each with different motivations. For the "Crossdresser," our occasional adoption of a complete feminine persona and total gender role presentation is an outward personal expression of our inner feminine feelings. We dress appropriately in emulation, rather than in mockery, of femininity. This is about gender expression, not sexual preferences and orientations. We cultivate our complete feminine image, with lingerie, makeup, wig, padding for breasts and hips, as well as the feminine clothing, shoes, and accessories, and even a femme name. Crossdressers are found in every society. It is unfortunate that men dressing and behaving as ladies, for personal expression, remains a misunderstood phenomenon in many modern cultures.

The Tri-Ess philosophy, as articulated by the Chair of the Society's board of Directors, can be expressed in the acronym, F I B E R:

F - Full personality expression, in a blending of both our masculine and feminine characteristics. We do not wish to destroy our masculinity, but to soften its harsher aspects and be all we can be.

I - Integration of our masculinity and femininity to create a happier, more complete, person, as we use our enhanced understanding of ourselves in our daily lives.

B - Balance between masculinity and femininity in our total personalities.

E - Education of Crossdressers toward self-acceptance, education of our families toward understanding, education of society toward the acceptance of Crossdressers as ordinary people with a special gender gift.

R - Relationship-building in the context of crossdressing.

Based upon these FIBER concepts, the Society uses all available resources to achieve its purpose. Tri-Ess' charitable, educational and literary activities include, but are not limited to, the following:

1. - The Society publishes a well respected, professional quality magazine, the Tri-Ess Femme Mirror. The Mirror covers crossdressing from every conceivable angle. Stories of emergence, interesting experiences, activities and events within the gender community, timely wardrobe and fashion information, articles by wives, "how-to" self-improvement articles, news from Tri-Ess Chapters, treatises on crossgender expression and the law, articles on religion, and scholarly articles and professional research about the "why's of crossdressing" - are all available in the Femme Mirror, along with photos, poetry and even cartoons - and all in good taste.

2. - Through its Spouses' and Partners' Support function, Tri-Ess publishes the Sweetheart Connection, the only newsletter by wives of Crossdressers, for wives of Crossdressers.

3. - The Tri-Ess Membership Directory and its regularly updated supplements, features profiles and pictures (optional). Most Crossdressers have often felt alone, and may live far from any Tri-Ess Chapter, or other support group. To meet another sister through correspondence can be a very rewarding experience.

4. - The Tri-Ess "Pen Pal Program" matches a Crossdresser desiring to correspond with a volunteer who recognizes her fears, loneliness and concerns. Correspondence provides opportunities to discuss our deepest feelings and experiences with others who share them. The Society provides a free, coded, "Mail Forwarding Service" that allows Crossdressers to correspond while protecting personal security.

5. - The Society also creates, publishes and distributes a variety of booklets, brochures and pamphlets on Crossdressing. An ongoing project is the translating of much of our literature into foreign languages. In addition to English, currently Tri-Ess materials are available in Portuguese, German and Spanish, and another sister has offered to translate our materials into French.

6. - Tri-Ess sponsors and provides the leadership resources for about 30 Tri-Ess Chapters in the United States and Canada. These Tri-Ess affiliated groups of Crossdressers, including many wives, support the aims of the Society on a local basis. Chapter meetings are held regularly to provide opportunities for Crossdressers to practice and improve their feminine gender presentation skills. The Tri-Ess Chapter meetings also serve as social gatherings where members can enjoy informative, educational, "how-to" programs and the company of others like themselves. Some Chapters meet in hotels; other in members' homes or at sympathetic churches, businesses or restaurants, but always in a safe ,secure, non-threatening social and educational environment. Our wives never feel unwelcome or out-of-place. Most Chapter meetings are crossdressing occasions and many Chapters also have additional non-crossdressing meetings and activities that serve as an excellent way to bring out timid new Crossdressers and apprehensive wives.

7. - Each November, since 1979, The Society sponsors a national convention and conference for Crossdressers and our supporters that we have named The Tri-Ess Holiday En Femme.. Holiday participants meet new friends and attend a wide range of educational seminars and workshops featuring recognized professionals and community leaders. They enjoy shopping and dining outings, and generally have fun "en femme" while learning more about crossdressing. Holidays are held around North America in cities where there are Tri-Ess Chapters.

8. - Tri-Ess also established and presents the annual Spouses' and Partners' International Conference for Education. "S.P.I.C.E." is the only event in the gender community designed to address crossdressing issues for wives and partners. While their Crossdressers attend this non-crossdressing event, the focus on the conference is on wives and other females involved in committed relationships with Crossdressers. The professionally prepared and presented programs deal with crossdressing topics from the wives' prospective and are designed to overcome fears, provide current information, promote an understanding, enhance communications and strengthen family relationships. S.P.I.C.E. also moves around the country, in order to reach more people.

9. - Tri-Ess serves as an effective voice of advocacy for Crossdressers and their families. In recent years we have shared a community outreach booth at conventions of various helping professionals. We support the Intonation Conference on Transgender Law and Employment Policy (ICTLEP) and the ITA and GenderPAC lobbying efforts. Tri-Ess leaders have appeared on radio and television talk shows informing the audiences about crossdressing. Tri-Ess Chapter members participate in educational outreach by speaking to many helpline volunteers, police departments and university classes. Many local Tri-Ess Chapters also support a variety of charitable causes, including local food banks, spousal abuse, and family crisis centers and breast cancer research.

10. - Tri-Ess is a supporter of the International Foundation for Gender Education (IFGE), the umbrella organization for all categories of the transgendered. Some of the IFGE Board of Directors are also Tri-Ess leaders. The Society has a long history of supporting and working for cooperation, tolerance and understanding within a community of diversity.

11. - For the emerging Crossdresser, the Tri-Ess "Big Sister Program" offers personalized support and assistance. A volunteer Big Sister, through correspondence and personal visits, when possible, helps the Little Sister in ways ranging from finding wigs, makeup, and the right feminine clothing and shoes, to attending her first Chapter meeting, or going out to restaurants or clubs.

12. - The Society has an expanding presence in cyberspace. Tri-Ess International and several Tri-Ess chapters have established home pages, thus expanding access to information and our educational outreach worldwide. Last year Tri-Ess launched an on-line forum for wives and partners of crossdressers. Subscription is free, and is limited to genetic females only. It has been hugely successful, providing a safe space in which our wives and partners can share their experiences and receive the support of our peers. Our most recent project is an on-line forum for crossdressers.; Subscription is free, and comes with your Tri-Ess membership. It's a great way to meet and chat with your sisters on-line, and receive the same sort of peer support enjoyed by the ladies on our forum.

13. - Through the Tri-Ess Library Project, the Society places a set of books dealing positively with Crossdressing in public and institutional libraries.

14. - The Society's Board of Directors has designated specific funds to assist in financing professional, academic research involving Crossdressers as ordinary people. The all volunteer Board of Directors of The Society for the Second Self, Inc., continually evaluates these and other program opportunities in order to ensure that Tri-Ess provides the Crossdresser, whether novice or experienced, and her family with the finest, appropriate, resources designed to meet their needs. The Society for the Second self, Inc., is recognized by the Internal Revenue Service as a publicly supported tax exempt, Section 501(c)3, educational, literary and charitable organization described in Section 509(a)(1) of the Internal Revenue Code (the "Code"). Contributions to The Society are tax deductible to the donor under Section 170 of the Code. Please consult your tax advisor. A copy of the IRS determination letter will be furnished to potential donors upon written request addressed to the Secretary.

Each of us has a different niche of crossdressing activities; some of us are quite out in the public, others of us are still mostly in the closet. Your niche doesn't matter to us, and if Alpha Tau sounds like a group you would like to be involved in, we would love to hear from you. We are just ordinary people, just like you, who have a special interest together.

Alpha Tau has been in Austin for over 20 years. Some of the past activities have included:
Going out dressed in our nicest ladies outfits to a restaurant and then to a ladies clothing store shopping (we reserved it to shop after closing hours just for us).
Christmas parties where we held a rotating gift exchange. This usually includes ladies from other chapters around the state.
Halloween party where most of us dressed up in fancy costumes. (French maids, waitresses and saloon girl costumes seem to be popular then).
Some of us have gone out dressed up to the theater or vaudeville
A few years ago a few of the ladies went on the "Dignity Cruise" ship around the Carribean and had a fun time being "dressed up "on the cruise.
Some members have gone to the Tri-Ess national event "Holiday En Femme.
One of the members had us all out at their ranch for BBQ. A really fun afternoon.
A few times we have rented a tour boat that goes up and down Lady Bird (Town) Lake.
Once in a while a couple of the ladies and their wives will go in a group to a beauty salon/nail salon or a DaySpa.
CONTACT INFORMATION
Our email address is alphatausorority@yahoo.com

Our mailing address is at a UPS Mailbox store
Alpha Tau Chapter of Tri-ESS
1101 West 34th Street MailBox 463
Austin, TX 78705

Alpha Tau has a Group on Yahoo at Alpha Tau Austin which covers current chapter news, upcoming meeting and program information, articles from our members, local and national event schedule information and info about TG-friendly businesses and professionals.

FaceBook We also have a FaceBook page at Alpha Tau Austin FaceBook Page
RESOURCES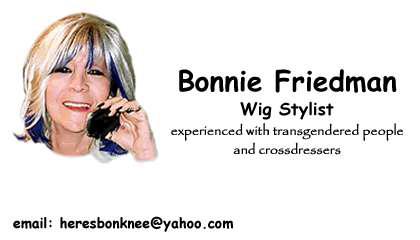 < >< >< >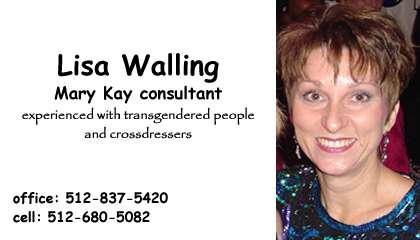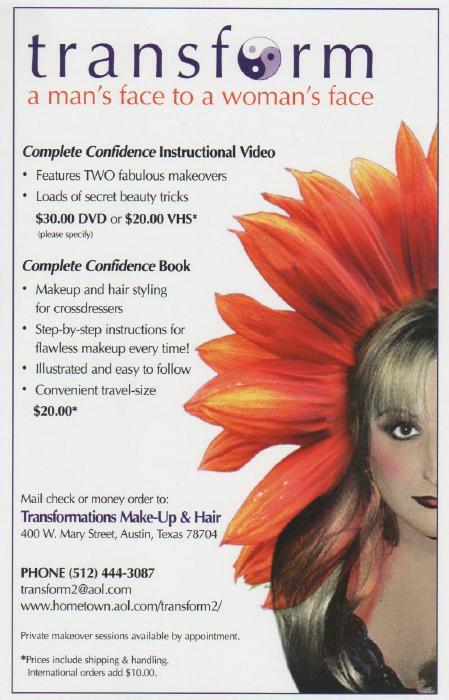 < >< >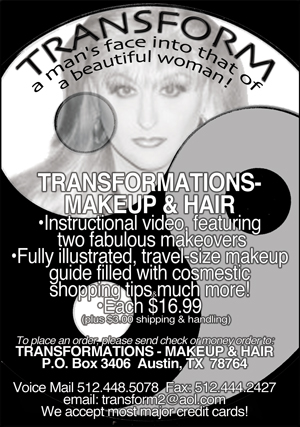 Christella Agado
Make-Up Specialist
Austin Texas
512-821-3378
TG Friendly
Please report any outdated information to us, thanks.
Updated 04/6/2018